A folding mattress is a portable, space-saving bedding option that can be easily folded and stored while not used. It comprises a foam or spring core typically covered with a removable, washable cover.
Folding mattresses are designed for people who need an extra bed for guests but do not have enough space. They are also great for camping, travel, and use in small apartments or dorm rooms. Additionally, you can use them as floor cushions for relaxing or as temporary beds for kids.
Pros and cons of folding mattresses
Folding mattresses have become popular for those needing a portable, space-saving bedding option. However, like any other product, they have advantages and disadvantages.
Pros of folding mattresses
Portability: Folding mattresses are highly portable, making them ideal for camping trips, road trips, and other travel activities.
Space-saving: When not in use, folding mattresses can be easily folded and stored in the cupboard.
Versatility: You can use Folding mattresses as temporary beds, floor cushions, or seating options in a living room or playroom.
Affordable: Folding mattresses are not as expensive as traditional mattresses.
Cons of folding mattresses
Limited support: Folding mattresses are often thinner and less supportive than traditional mattresses, which may not be suitable for people with back or joint pain.
Durability: The materials used to make folding mattresses may not be as durable as those used in traditional mattresses, and they may wear out or lose their shape over time.
Odour: Some folding mattresses may emit an unpleasant odour, especially if made of memory foam.

Size limitations: Folding mattresses may be available in limited sizes, which may not fit all bed frames or accommodate tall individuals.
10 Best Folding Mattress in the UK 2023
1. Symple Stuff Guest Folding Foam Mattress
The Symple Stuff Guest Folding Foam Mattress is a versatile and convenient bedding option that can easily be stored and manoeuvred. Its lightweight design and helpful handles make it easy to store and carry, making it the perfect travel bed. The high-quality foam padding provides good support, ensuring restful sleep, and the removable microfiber cover allows easy cleaning.
2. Kingfun Memory Foam Folding Mattress
The Kingfun Memory Foam Folding Mattress is a space-saving but temporary sleeping accommodation. Its 2-layer design of gel-infused memory foam and high-density support foam creates a medium-firm surface that is comfortable and supportive. The breathable cover of bamboo fibre and mesh fabric keeps the mattress soft and cool, and the non-slip cloth at the bottom prevents movement during use.
3. Milliard 15cm Thick Tri Folding Mattress
The Milliard Foam Tri-fold Mattress is a versatile and comfortable solution to temporary sleeping accommodations. This mattress is CertiPUR certified and has a removable ultra-soft cover and anti-slip bottom. Perfect for camping, guest rooms, or dorms, the Milliard tri-fold mattress measures 90 cm Wide x 190 cm Long x 15 cm Thick and comes with a shipping weight of 9.8 Kilograms.
4. Compact Technologies Folding Mattress
Compact Technologies offers a Twin XL Foam Folding Mattress that provides a comfortable sleeping experience for its customers. This 6-inch thick mattress uses multi-density foam with a 4-inch firm base and 2 inches of Soft Air Memory Foam on top. It folds into a cube and fits into the rugged Travel Case that comes as a free bonus.
5. Zinus Memory Foam Tri-Fold Folding Floor Mat
The Zinus Memory Foam Tri-Fold Folding Floor Mat provides comfort and support with its multi-layered foam construction, including 1-inch Memory Foam, 2 inches of Viscolatex Responsive Foam, and 1-inch High-density Base Support Foam. It is infused with natural ingredients to help absorb moisture, eliminate odours, and keep the mat fresh. It is compactly rolled and packed for efficient home delivery, weighing 15.7 pounds.
6. Olee Sleep Tri-Folding Memory Foam Mattress
The Olee Sleep Tri-Folding Memory Foam Mattress is an excellent sleeping solution made of 100% polyester fabric and features a 4-inch thickness with a supportive memory foam topper. Its quilted topper provides a comfortable sense, ensuring no pain in the neck or back when people sleep on it. Moreover, the advanced compressed package technology delivers it in a box directly to your doorstep.
7. Cozzzi Trifold Foldable Mattress
Cozzzi Trifold Foldable Mattress is versatile for unexpected guests, camping, and travel. Made from high-density foam, it is lightweight, portable, and easily foldable into different positions, making it perfect for compact spaces. Its zip-off cover is machine washable and conveniently stored under a bed or in a cabinet when not in use. Its multipurpose design also makes it suitable for use as an exercise mat, children's play mat, or preschool nap mat.
8. American Furniture Alliance TriFold Mattress
The American Furniture Alliance Inc Tri-Fold Mattress features an ultra-soft poly sleep surface and pro fibre filling, providing a soft, breathable, and comfortable sleep. This portable mattress folds easily for storage, making it ideal for dorms, apartments, and tight quarters. It is also durable with non-slip mesh sides and a bottom, ensuring safety with its National Flammability Standards.
9. D&D Futon Furniture Folding Foam Bed
The D&D Futon Furniture Folding Foam Bed is a versatile and convenient sleeping solution. It is made of high-density foam that provides durability and longer-lasting support. This mattress bed folds out to 6″ thick x 36″ wide x 70″ long, while the chair dimensions are 23″ high at the backrest x 12″ tall at the sitting position x 36″ wide x 30″ deep. It's perfect for unexpected guests, camping, or saving space in your apartment or dormitory.
10. C&DIAN Foldable Mattress
This C&DIAN Foldable Mattress is a high-quality and comfortable bedding option. Its lambskin fabric is soft, warm, and skin-friendly, while the three-dimensional quilting design evenly distributes the filler. The foldable mattress has straps for easy storage and fixed positioning. However, routine upkeep is required to keep its fluffiness intact.
Why Origin Hybrid Mattress is better than a folding mattress
The Origin Hybrid Mattress is better than a folding mattress for several reasons. Firstly, it is designed with temperature-regulating technology to ensure a cool and comfortable sleep.
Additionally, it is made with pressure-relieving materials that contour to the body and alleviate joint pain. Its motion-isolating feature also prevents disruptions caused by restless sleeping partners.
Overall, the Origin Hybrid Mattress is a high-quality investment in better sleep, especially for guests and children. Moreover, It shows your care about providing guests with a comfortable and restful environment.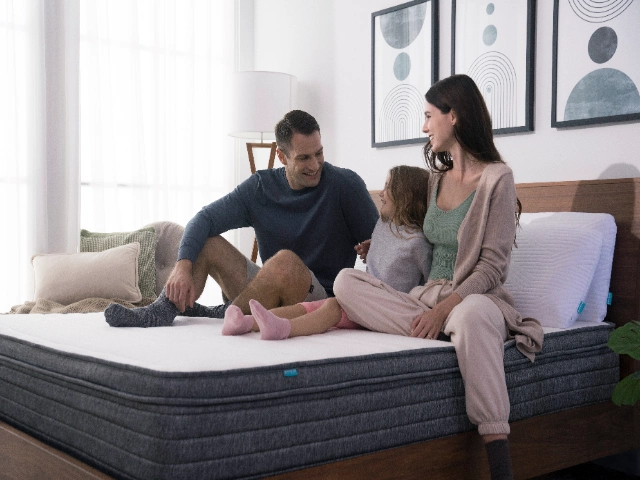 Conclusion
The Origin Hybrid Mattress is a superior choice due to its advanced features, such as a 100% Natural Tencel™ cover, HexaGrid Orthopaedic Layer, Premium Australian Wool, Natural Bamboo Foam, and Edge Support (CertiPUR-US® certified). Additionally, the Antigravity Springs offer motion isolation and enhanced pressure relief. With up to 40% off sale, a generous 15-year warranty period, free shipping, and an accommodating returns policy, the Origin Hybrid Mattress is an excellent investment for a better night's sleep.