Since being established in 1919, Slumberland has grown enormously and is now one of the oldest mattress brands in the world. Slumberland primarily places its focus on health and well-being, having been known for following many of the new health trends and adapting with the times to create something unique.
Their EVE Hybrid Uno Mattress has been doing the rounds and becoming increasingly popular, with numerous high-quality features that include soft-touch fabric, which contours to the way you sleep. But before you buy this mattress, you should also consider alternatives. For instance, the Origin Hybrid Mattress is one of the newer and more reliable options that closely compete.
Since buying a mattress or bed is such a big expense, we encourage you to read this comparison to make the best purchase.
Why Is The Slumberland Brand So Popular?
Aside from the value and features they put in their mattresses, the Slumberland brand is one of the oldest brands. Withstanding the test of time showcases the reliability of the brand. Slumberland features a combination of luxurious and budget options that would accommodate every person.
Slumberland Eve Hybrid Uno Mattress Vs Origin Hybrid Mattress
One of the brands that have managed to become a maverick in the sleep industry is Origin. Instead of following the most popular trends, Origin manages to create new trends that set them apart. To help you choose between the two brands, the following comparison will use some of the most popular features and see who wins.
1. Number Of Layers
Slumberland gives their users a four-layer mattress, which includes all the top features and top technology you could need. Aside from numerous pocket springs, they have adopted the CertiPUR-US® edge support, which includes memory foam. In terms of layers, this seems to be their main claim to fame.
Origin takes it a step further and they added about 6 different layers to their mattresses. The six layers that Origin offers are the 100% Tencel Fabric Layer, A Premium Australian Wool Layer, Natural Bamboo Foam Layer, CertiPUR-US® certified Edge Support, Antigravity springs, and a HexaGrid Orthopaedic Layer. Each of these combines significantly well in making sure that you have all the support and comfort you could desire.
Winner: The Origin Hybrid Mattress has more layers to the mattress. You would naturally have more comfort and support with Origin.
2. Motion Isolation
We have selected motion isolation for the next part of the comparison due to these brands being so evenly matched. The Slumberland mattress pairs pocket springs with memory foam, which contours directly to your body. Memory foam helps insulate motion, dampening any disturbances on the mattress while you sleep.
Origin has made a meal out of ensuring that you have peaceful sleep every night. The brand combines the same memory foam technology, with Antigravity springs. By adding additional LumbarCoils™, they outperform the Slumberland mattress when it comes to the optimal strength-to-weight ratio. On the Origin Hybrid Mattress, the weight feels more evenly distributed.
Winner: The pocket springs and memory foam offered by Slumberland pale in comparison to the LumbarCoils™. For this reason, Origin is the clear winner.
3. Temperature Regulation
People tend to look past temperature regulation when buying a mattress. However, companies spend huge amounts of resources researching how to optimize temperature. The numerous pockets in the Slumberland mattress allow air to escape to a degree, but the soft-touch fabric might be a bit warm.
The Origin Hybrid Mattress works differently, and the HexaGrid Orthopaedic layer we spoke about earlier makes all the difference. This layer features 10,000 ventilation holes, which allows air to efficiently escape or be trapped when need be. With cooling particles infused in the HexaGrid layer, this mattress keeps you at the Goldilocks zone for sleep at around 18.3°C. This allows you to get comfortable and soothing rest every time.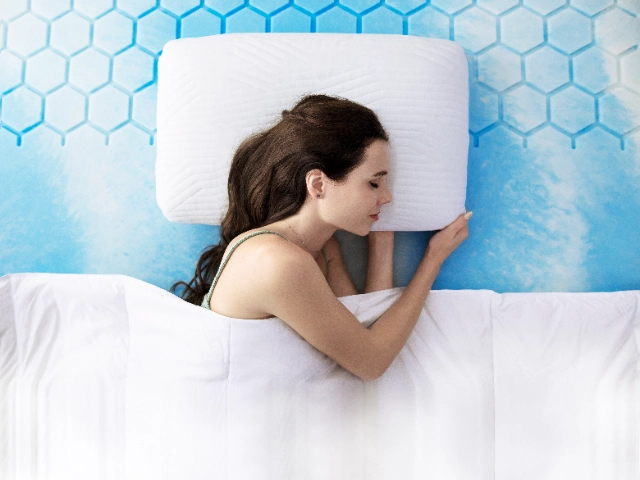 Winner: Since Origin aims to get you as close as possible to 18.3°C, it is no wonder that the brand is the winner. With Slumberland, you may find yourself too warm from time to time.
4. Price And Value
Essentially, everything boils down to the price and value of the mattress. Very few people can afford to pay thousands of pounds for a new mattress. Fortunately, both these brands are reasonably priced and offer great value for your money. Slumberland also offers a 5-year warranty and a 40-night sleep trial, which is decent.
However, the Origin Hybrid Mattress comes with a 15-year warranty and free delivery will only take about 2-8 business days. They offer a solid 200-night sleep trial, which is more than 6 months for you to figure out if this is the mattress for your needs. Their mattress is also slightly more affordable, making it more value for money.
Winner: Origin offers you a far more lucrative deal when you consider all the extras. The sleep trial, warranty, and delivery are some of the best you could find in the mattress market.
Conclusion
Both these mattress options come with a solid reputation and you will not be faulted for having a hard time when choosing. However, the Origin Hybrid Mattress is more affordable with better features. Coupled with their extensive warranty and sleep trials, you can be assured of a risk-free purchase.

In fact, if you head over to the Origin store now, you can get a 40% discount on your next mattress. Try it out for 200 days to test out this revolutionary sleeping experience for yourself. Upgrade your sleep today!