Are you struggling to get a good night's sleep? If so, you're not alone. According to recent studies, sleep deprivation has become a common problem for many people worldwide. Interestingly, one of the biggest factors affecting the quality of your sleep is the type of mattress you're using. A quality mattress can make all the difference, providing you with the comfort and support you need to wake up feeling refreshed and ready to face the day.
However, choosing the right mattress can be overwhelming with so many options on the market. In this review, we'll be looking at two popular choices: the Dreams Mattress and the Origin Hybrid Mattress. We'll explore their similarities and differences, highlight their unique features, and provide you with all the information you need to make an informed decision. Before going into the review proper, however, let's take a brief look at the Dreams Mattress brand.
About Dreams Mattress
The Dreams Mattress brand has been around since 1985. Since the brand's establishment, it has racked up quite a reputation for providing quality mattress options. Currently, the Dreams Mattress brand has a product line filled with lots of different mattress types. However, for the purpose of this review, we'll be focusing on one of the best mattresses the Dreams Mattress brand has to offer –The Dreams Harper Rolled Mattress.
The Comparison: Dreams Mattress Vs. Origin Hybrid Mattress
The Dreams Mattress Brand's Dreams Harper Rolled Mattress is touted as one of the best mattress options on the market. However, the question is, how well does this mattress measure up against another top-quality mattress juggernaut –The Origin Hybrid Mattress? Read on to find out!
1. Motion Isolation
Motion isolation refers to a mattress's ability to absorb movement and prevent it from transferring to other areas of the bed. It is particularly important for couples who share a bed, as it ensures that one partner's movements during the night won't disturb the other's sleep. Good motion isolation also means you're less likely to wake up when your partner gets in or out of bed at night.
The Dreams Mattress has an excellent build that consists of individually wrapped pocket springs scattered around the mattress. This design helps to ensure that the mattress will easily absorb motion from your body and that of your partner.
The Origin Hybrid Mattress also has a build that's optimized for motion isolation. This amazing mattress combines a strategic placement of anti-gravity springs with a unique HexaGrid layer to give it superior motion isolation. In fact, the Origin Hybrid Mattress' motion isolation is so good that someone could repeatedly be moving or getting on and off the bed at one end, and you won't feel a thing on your side. The verdict? Origin edges out the Dreams Mattress here.
2. Temperature Regulation
Next up, let's talk about temperature regulation. Did you know that your body has a preferred temperature for you to enjoy an optimum sleep experience? It's true! Most mattresses, however, offer nothing in terms of temperature regulation, which explains why you constantly wake up at night feeling hot and uncomfortable.
Regarding temperature regulation, it has to be said that the Dreams Mattress doesn't offer much aside from a fairly breathable build. The Origin Hybrid Mattress, however, is on a totally different level.
The Origin Hybrid Mattress combines a highly-breathable design with a unique build that features an infusion of cooling particles. These features sync up perfectly to keep your body close to 18.3°C, the ideal temperature for a deeper sleep. So if you're keen on a mattress that will keep you cool and comfortable all night, the Origin Hybrid Mattress is the perfect choice.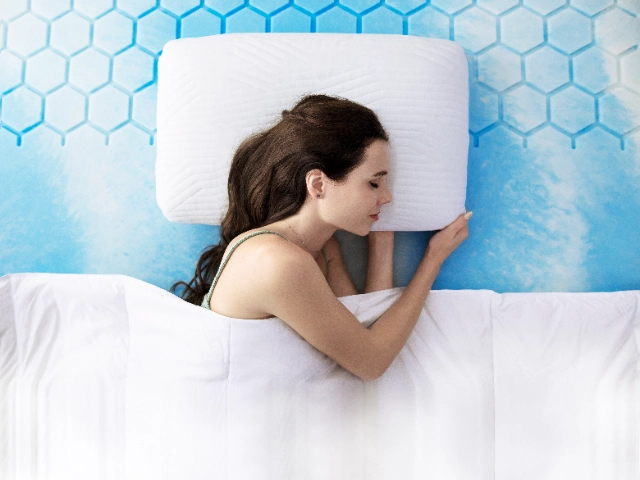 3. Targeted Relief
Targeted relief is an important feature in a mattress, especially for those suffering back pain or other pressure point issues. It refers to a mattress's ability to provide specific support to certain areas of the body, such as the hips, shoulders, and lower back, where pressure points tend to develop. A mattress with targeted relief can help alleviate pain and discomfort by evenly distributing your weight and reducing pressure on these sensitive areas.
Aside from its individually-wrapped pocket springs, the Dreams Mattress doesn't offer much in terms of targeted relief. On the other hand, the Origin Hybrid Mattress is designed to provide optimum relief and the best sleep experience possible. This mattress has a unique HexaGrid layer that perfectly cradles your body and keeps pressure off your pressure points. In addition to this, it also offers more support in the center-third area of the mattress, ensuring that you'll enjoy even better lumbar support.
4. Durability
Now let's talk about durability. Quite simply, durability here refers to the ability of a mattress to remain functional for long periods without deforming in any way, particularly at the edges. In this category, the Origin Hybrid Mattress remains the best option.
This is because this mattress combines a 6-layered build with dense foam to give it a very durable build. That's not all; this mattress also has its edges lined with pocket springs to give it an extra durability boost of edge support. So you can be sure this mattress won't be sagging anytime soon.
5. Price and Value
Lastly, the price consideration. Ultimately, what determines the type and quality of mattress you'll be able to buy is its price. However, beyond just monetary price, you'll also want to make sure you're actually getting value for money. The Dreams Mattress is currently priced at £379. The Origin Hybrid Mattress, on the other hand, currently costs £299.00. So without a doubt, the Origin Hybrid Mattress offers far superior value for money!
In Summary
Conclusion
Although the Dreams Mattress offers a pretty decent value for money, ultimately, the Origin Hybrid Mattress is by far the better mattress option. So why not get one for yourself? Get one today and enjoy awesome perks like up to 40% off sale, free shipping, and even a 15-year warranty! Origin also offers a risk-free 200-day trial for you to test out your mattress!